Skeptical?
You could be if it wasn't for the fact that this system was designed, created and researched by Silvia Hartmann, PhD - one of the most creative and acclaimed innovators in the field today.
Silvia Hartmann is the author of:
Adventures In EFT - The "Clear Blue" Trainer For Classic EFT;
The Advanced Patterns Of EFT - The Quantum Healing Manual For Highly Advanced Energy Work;
The Practitioner, Advanced Practitioner, Master Practitioner & Trainer's Trainings For The AMT
Project Sanctuary - The ONLY Quantum Logic Trainer available in the World today.
As the Moderator of the oldest all-comers MET list on the Web, advanced writer for Gary Craig's EmoFree list and through her quality contributions of public patterns which can be found all across the World Wide Web and include LoveLine, The Gift, The EFT Body Protocol, The Inner Child Healing Spiral, SLOW EFT and many more, you can be sure to know that Silvia Hartmann knows what she is talking about.
EmoTranceTM is the culmination of working intensively for five years with the New Meridian Energy Therapies.
It is a system like no other - indeed, EmoTrance has been called "a quantum leap" and a "true paradigm shift" by many who are themselves researching right at the cutting edge.
EmoTranceTM is a brilliant design which has so many intricate advantages, there is not enough room to list them all.
Amongst the highlights of the system are the following features:
Entirely client driven, entirely client led - No hallucinations, no guesswork, no detective work required. EmoTrance takes care of all of that and makes Energy Healing so easy that a child could do it.

Entirely flexible and deceptively simple - EmoTrance can be performed as the most esoteric and magical of healing modalities on the one hand, and on the other it can sound as though it is just a talking therapy - thus making Energy Healing available even to those who work in negative allopathic environments and under the strictest of supervision.

Intuitive, natural and easy - EmoTrance is without a doubt the easiest of all Energy Healing modalities to learn to do and to learn to do with others. It is so simple that a child of three can do it for themselves AND assist another in their healing in return!

Absolutely and completely content free - there is no need for the practitioner to ever know what the problem was to be able to assist a client to get the most remarkable shifts in life long, deep and complex problems and issues.

A superb Healing Tutor - designed to "teach energy healing and intuition", EmoTrance literally makes a healer out of every regular user - and simply by the experience of doing it.
But this is by no means all to recommend this newest of Quantum Energy system so highly.
There is more.

"I Am Beautiful And I Want To Dance!"
These words were spoken spontaneously by a lady who had suffered her entire life from low self esteem and depression as a direct result in the improvement in the conditions of her energy body.
You can expect a great deal more with the EmoTrance system than just merely symptom removal and cessation.
EmoTrance is a system designed to aid the development of the human energy body.
This means that:
EmoTrance is absolutely a device to go beyond our previous experiences and into whole new realms of experiences and sensations. That is not an advertising slogan but the actual experience of all those who are already using this system on a daily basis for themselves and with their clients.

EmoTrance is directly designed to increase the frequency and depth of numinous or enlightenment experiences for the user, and not only that, to also increase the range of circumstances under which such experiences can be felt.

EmoTrance is further directly designed to be FUN to use and FUN to do - after all, enlightenment is not a dour or boring slog but indeed, a dance of joy and a falling in love with the Universe itself!
But all of this is still just a fraction of what you can do with this entirely unique and entirely amazing system.
Try it out for yourself - that is the only way to know and understand just how much EmoTrance can do FOR you:
To help you resolve the most ancient burdens, scars and injuries;

To give you a whole new perspective on who you are and what you can do;

To surprise you and delight you with how wonderful you can feel and how that is;

To change your experience of everyday, mundane tasks, objects and people into something entirely different and amazing;

And to allow yow you to have at your very fingertips all and any form of energy you would ever wish to evoke - for healing, for magic, for learning and for life!
You can learn EmoTrance right now - Click HERE To Order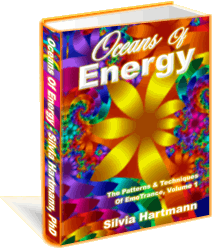 Oceans Of Energy
The Patterns & Techniques Of EmoTranceTM
Vol.1 - First Edition V 1.0
Order The E-Book Now For Instant Download
Find out about The E-Book Advantage!
EmoTrance will give YOU ALL THIS – and then, much, much MORE:
Understanding, using AND EXPERIENCING the powerful energies of the "EVEN FLOW".

How to NEVER get hurt by a "careless whisper", EVER again.

How to transform ANXIETY into ACTION – INSTANTLY!

Virginia Satir's most closely guarded "SECRET HEALING MOVES".

Feel the fear – AND FEED ON IT!

How to get stronger under pressure – the GREATER the pressure, the more you're LAUGHING!

Why most people are "starving to DEATH" behind their SELF MADE defenses.

How you can finally – finally! - get to GLOW WITH TRUE HAPPINESS when someone compliments you!

The freedom of being TRULY FEARLESS – and what that means for your abilities to manifest your true desires (this'll take your breath away!)

Transforming negative "self talk" into simply feeling powerfully balanced – in ONE SECOND.

How YOU can "switch state" in an instant.

Turn Jealousy and Envy into sources of pure delight!

"Sucking" nourishment and energy from every situation, every environment!

The "balanced diet" of the energy system - what it is, and how you can finally get it.

The EVILS of the defense of loneliness - and how to overcome the need for loneliness.

Supercharge your abilities to channel and convert one form of energy into another.

Powerful centering like a martial arts master - in ten minutes, not ten years!

Why we hold on to "old energy" and why it's KILLING US WITH KINDNESS.

How to soften and release "old energy"

"Ancient Shields" – And why they belong in the museum ...

INSTANT "Energy Consciousness" made incredibly easy.

... AND:
Learn to handle a vastly wider spectrum of energies than 99% of all healers, yogis, witches and martial arts experts - literally in minutes!

Unprecedented co-operation by your unconscious mind - the UC just LOVES EmoTrance!

The ultimate defense against "evil energies"

"Hands Of Ghost" technique and why it's often the first choice.

Discover the sensuous joy of "Gentle Softening" ...

How YOU can EASILY learn to programme yourself to restore your Even Flow from moment to moment.

Automatic "Instant Rescue" responses in the field – when YOU need it most!

Going way, way beyond "just words" to restore, heal and re-charge.

When NOT to use EmoTrance processes and what to do instead.

... AND:
Why EmoTrance improves your focus, your attention and your physical health;

Bringing entire regions of YOUR energy system back to their natural vibrant, dancing life.

Why 99% of all people MISHANDLE ENERGY – and what to do about that!

How "avoidance" and "procrastination" can become a thing of the past;

How you can cure "ENERGY ALLERGIES" quickly AND effectively.

How you can gain true freedom in and from human interactions.

The importance of steady, ever renewing streams of ENERGY NOURISHMENT.

How YOU can release a hundred INTERLOCKED fears in a single instance - all at once!

Learn to understand, experience and apply a system that YOU can apply to environments, to your own thoughts and in RELATIONSHIPS - anywhere, any time.

... AND:
Making short work of HEALING POWERFUL ENERGY FIELD DISTURBANCES

Why you don't have to worry about forgiveness or even absolution.

How to stop starving yourself amidst the splendours and riches of the "Oceans of Energy".

How to make personal, physical contact with the abundance of this World.

The final answer and solution to all forms of "emotional blackmail".

How to boost your energy levels to SPARKLING point - anytime, anywhere!

Release, relax and experience a true sense of DEEPEST RELEASE.

Find out FIRST HAND HOW it is that EmoTrance is so user-friendly, so easily replicated and so automatic in the Real World, outside any workshop, therapy or meditation environment.

Learn how to use the EmoTrance technique to free, heal and release OTHERS.

Why and how EmoTrance simply transforms and supercharges YOUR natural magical abilities.

The ENERGY SECRETS behind the EmoTrance system - and where they came from!

How YOU can become a "fountainhead" of VIBRANT, HEALING AND RE-NEWING energy for your environments and for your loved ones.

Why EmoTrance is so natural, and so easy to learn and do.

.... AND:
How YOU can become literally invincible to negativity, criticism and hatred – and what that means to YOUR WORK, YOUR PERSONAL LIFE AND YOUR MISSION!

Learn to undo stuck emotional mind/body systems that have troubled you for years.

How you soften old scars and begin an entirely ecological, gentle and delightful healing process.

Where your energy goes and how you can re-route it SO IT SERVES YOU IN ALL WAYS.

FIND ALL THE ENERGY you need for a truly pro-active life that is FUN - whatever the weather!

Learn a simple three step process to let you perform the MOST POWERFUL "POTENT BLESSINGS".

How to go beyond mere "peace" and into proactive, highly charged "Energised States Of Being"

ENERGY NUTRITION – and how this knowledge revolutionises treatments for addictions, weight loss and RELATIONSHIPS.

How to use EmoTrance in general treatment flow as a healer and therapist

; for personal use and to evoke powerful energies;

Finding YOUR very own "Energy Escape Routes" and greatly enhancing your body/mind flexibility in turn;

Stimulating and re-vitalising your "Energetic Immune System" to give more room to growth in freedom.

Developing EmoTrance into unconscious excellence - so it JUST HAPPENS without you even having to think about it (and you have your hands free to get on with your life!)

How YOU can FINALLY allow YOURSELF to become really excited, really joyful and really ALIVE!

... AND:
How to use the EmoTrance to TRANCEFORM YOUR experiences of YOUR RELATIONSHIPS.

Why EmoTrance does more for your energy than five years of meditating!

Turn on YOUR "Healing Hands" to FULL POWER – when and where YOU DECIDE!

The "Energy Aikido" Principles – and how YOU put them into action.

Really Get To Grips With The Truth About Energy, Our Bodies, Our Environments & REAL LIFE!
You think that's a lot?
That's just the beginning!
EmoTrance is what it is and works as well as it does because it is FINALLY a system for working with REAL ENERGY based not on hearsay, not on "channellings", not on ancient prophesies but on HARD, LOGICAL, CLEAR EVIDENCE and FACT - including your very own experiences with the World around you.
"EmoTrance goes way, way beyond just healing and symptoms alleviation. It is based on a proactive, developmental model of the Human Energy Body - that's why it feels so good and right, and why it works so well."

Dr Silvia Hartmann


A Personal Introduction To ET by Dr Silvia Hartmann!
No Previous Training In Any Form Of Energy Modality Required!
Your experience as a human being on this planet, with a body, a mind and emotions, whatever they may be, is ALL THE EXPERIENCE YOU NEED to understand EmoTrance, and to start working with it, playing with it, trying it out for YOURSELF and most of all, finding out for YOURSELF what the challenges in YOUR OWN developing energy system really are.
EmoTrance and all its techniques and patterns are
Easy
Natural
Intuitive
... and they always feel wonderful and RIGHT!

Whether you are an experienced energy therapist, a researcher, a healer, an NLP-, Kinesiology-, Holistic Health practitioner or you simply want to find out a GREAT tool for personal development, to heal emotional pain in yourself and in others easily and without the need to even talk about what it was that hurt you so badly, EmoTrance IS for you!

You can learn EmoTrance right now - With Oceans Of Energy!
Are you NEW to Dr Silvia Hartmann's EmoTrance?
Read HERE how a brand new international audience responded to ET Live!
EmoTrance Healing Power Made Visible -
Polycontrast PIP Images from the Oxford Energy Therapies Conference 2002
"Of all the many therapies I've trained in and approaches I have used none have excited me and touched me so deeply.

"EmoTrance is quite simply the most beautiful, graceful and simple healing and self-care approach I have come across."

Dr Mark Atkinson, Holistic Health Care Expert
You can learn EmoTrance right now - Click HERE To Order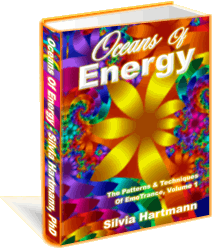 Oceans Of Energy
The Patterns & Techniques Of EmoTranceTM
Vol.1 - First Edition V 1.0
No talent required. No faith needed. Just beautiful, logical and INTELLIGENT energy healing FOR YOU!
Order The E-Book Now For Instant Download