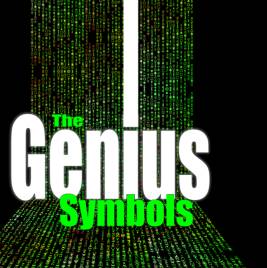 Introducing ...

Created by Dr Silvia Hartmann, Creator of EmoTrance, Project Sanctuary & The Harmony Program
Five decades of research.

ONE elegant system of 23 Genius Symbols.

So simple that a 4 year old child can make it work, first time;

So complex that the greatest mind master could spend a lifetime exploring the richness and the depth of these symbols and find
something NEW & DELIGHTFUL, EVERY TIME ...
For YOU to unlock YOUR visionary GENIUS.
To be a visionary thinker, a visionary leader, a visionary artist,
or a true visionary genius, you need ...

This BRAND NEW Manual Will Show YOU how to get YOUR OWN VISIONS
AND - how to CONTROL your visions with ease!
The 23 Unique Project Sanctuary derived Genius Symbols and the games you
play with them will give you exactly that - custom made visions of pure and
outstanding quality, reliably and under your control, for you to use in ...

Creativity, Invention & Innovation
Problem Solving & Trouble Shooting
Clairvoyance, Clairaudience, ESP
Personal Development & Evolution
Magic, Reality Creation, Goal Setting
Divination, Religion & Spirituality
Healing, Health, Fitness & Sexuality
Therapy, Counselling, Self Help
Art, Music, Writing, Sculpture
Games, Adventures & Explorations
Design, Business & Commerce
Intelligence, Logic & Strategy

... and for excellence in every day life.

Here are just some of the advantages of The Genius Symbols
over "the old oracles from the dark ages":
VS
Can only ever be done by the chosen few - and you're not one of those ...
EVERY human being has the ability AND the right to have visions of their own - and here's how YOU get YOUR fair share of the good stuff!
Dangerous to mental health, emotionally disturbing ...
Positively healing and reconciling, GREAT boost to mental health, intelligence, logic and clarity of mind!
Unnatural, ungodly, sinful and leads you into labyrinths of delusion ...
Completely natural, works WITH the systems of the Creative Order, reveals the truth and actively en-lightens you!
Spooky and evil is lurking round every corner ...
Beautifully lucid, filled with light and logic!
Unreliable, hit and miss at best ...
Completely reliable, receive visions at will, ANY TIME, and ANY WHERE you want them!
Weird and mixed up, scattered, incomprehensible...
Information rich and the visions make perfect sense!
One way street - take what you're given and "somehow" make sense of it...
Two way interaction and full communication - you can ask questions until you UNDERSTAND!
"Unconscious" channeling with no control whatsoever ...
Conscious, lucid interaction with the data streams - YOU say stop, YOU say go, YOU stay AWAKE!
Takes decades to study and might never work at all - and probably never will, no matter what ...
Instantly accessible to ANYONE who wants to play - and you get RESULTS!
Little or no direct connection with reality, practically useless ...
Completely practical, produces real innovation and change that works "in the real world" by design!
You need a "guru" to tell you what's going on and what's best for you because you "could never know" and you're kept in ignorance and powerlessness ...
YOU BECOME YOUR OWN GURU!
You need to have mastered visualisation before you can even start, how to go into a trance, and all sorts of other advanced mind skills or it won't work ...
No previous skills or experiences or even the ability to visualise required - just pick up the symbols and get started, just the way you are!
Used by the desperate as a last measure ...
Used by the best thinkers on the planet and those wishing to evolve further still by preference and desire!
Vague, unspecfic and wooly, could mean anything ...
Precise information, perfectly matched to the questions, producing real "Aha!" - "Wow!" and "Eureka!" responses for YOU!
Huge entrance barriers of skills you're supposed to learn FIRST, "secret" symbols that only get revealed if you spend a fortune, elitism, exclusivity
Simple, elegant, INSTANTLY accessible to all - including small children!

Creativity FOR ALL HUMANS made easy!

You're lucky if you get one single good idea in a whole lifetime...
Endless, FREE FLOWING streams of AMAZING visionary creativity - at YOUR fingertips, to mine as you will for professional and personal success and wealth, AND to make important contributions to humanity!

"I know which I prefer ...!"
Dr Hartmann says:

In this book I am going to show you a simple way to start having beneficial visions and not just that, but also to be able to "step into the data stream" and interact with the vision directly and personally - ask more questions, make sure you understand, or even change it altogether if you don't like it into something new.

This way of working with the energy mind is completely unprecedented in the history of the human race, and it is the result of five decades of work, research, tests and also, walking the talk on my part.

The Genius Symbols make the essential tools you need to be a real visionary genius available to all who want this.

The symbols make it easy to have visions, to control the visions, to make USE of the visions to produce new books, works of art, innovations and inventions, and custom made solutions for science, industry, business, personal development, therapy, and enlightenment.

This new book contains concise, straightforward explanations on how it works, complete instructions, and many different ways to play for YOUR OWN PERSONAL BREAKTHROUGH VISIONS.

It's easy, it's tried and tested, brand new, and I sincerely hope you'll take advantage of this unique opportunity to really expand your own genius.

It is all our birthrights to be doing so!

Dr Silvia Hartmann

August 2008
Being "A Real Genius" is NOT about madly scribbling super complicated maths formulae that no-one else can read in your own blood on the walls of your dwellings at midnight.
In fact, that's just uncontrolled madness!
And thank God, now there is a NEW and BETTER way:

The Genius Symbols will show you how REAL CREATIVITY actually works -
Real Creativity is ...
And it is absolutely available to YOU, right here and now, today.
You can be a genius at ANYTHING - at relationships, at problem solving, at money making, at sex, at programming, at writing, at inventing recipes that never existed in all the time of men, at making a beautiful chair out of wood - at any thing.
Moving towards "being a genius" lifts your life, no matter what you do.
It makes you more powerful, it makes you less helpless, it opens new doors, new horizons, new opportunities.
It will bring you more self knowledge, more self esteem, more respect from others and it BRINGS TRUE JOY of achievement and accomplishment.
But there is more.
There is the chance to contribute to humanity at large, to leave a legacy, to really fulfil YOUR SPECIAL POTENTIAL on this planet, in this lifetime.
Don't believe those who say that you have to be born to it, or study for decades, or that you don't have what it takes.
YOU DO.
If YOU CAN READ THIS, THEN YOU CAN BE A TRUE GENIUS.
The Genius Symbols are HERE to HELP YOU ACHIEVE THAT.
Simply. Elegantly. Powerfully. Easily.
And now, for the first time in the history of mankind, available to 3rd Millennium people worldwide.
Claim YOUR right to think like a genius.
It's YOUR birthright.

by Dr Silvia Hartmann
Don't Delay: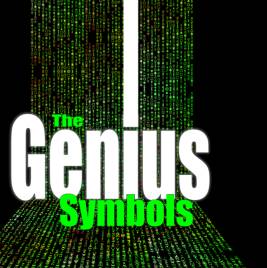 Dr Silvia Hartmann defines what it means to be a true genius and proposes that this is a basic human right, rather than an accident of birth. In this paradigm shifting work which is the result of nearly five decades of research and testing, The Genius Symbols are introduced. These are 23 unique symbols which form an alphabet for conscious communication with the energy mind, allowing the user to ask questions directly, receive answers, and refine these answers further to produce a breakthrough innovation, inspiration and invention that will manifest correctly in reality. Contains instructions and samples for use in personal development, art, science, therapy and how to use with children to teach life skills of active intelligence, lateral problem solving and creative thought. Whitaker 2008
It's been promised before, in many books I bought and read: you can unlock the power within. And it always stayed superficial… until I found the Genius Symbols.
Here is an instrument to REALLY unlock the power within and connect with our birthright.
Brilliant.
Loretta van der Stam
Coach & Trainer
www.neuromind.nl

I found the introduction to the system concise, easy to read, and easy to follow in practice. So it is very doable. And Dr Hartmann delivers many examples of what we can do with the system. Thus it doesn't take a genius to become a genius.

I am confident that the system is simple and straightforward enough for anyone who sincerely wants and has an open mind to contact their genius within.

I highly recommend this book. It delivers.

Dipl-Oek. Detlev Tesch
International Speaker, Coach and Trainer
www.WebTesch.de

You know that you have a real paradigm shift on your hands when the world explodes with possibilities, potential and you can feel the excitement!
Dr Hartmann's genius lies in going back to basics, and engineering revolutionary systems from the ground up that are profoundly elegant and simple, and yet at the same time, explosive in what they have to offer.
The Genius Symbols are exactly that - genius.
If that's what you want, here it is. For real.
Alex Kent Director
The StarFields Network
www.AlexKent.com

I have been an avid oracle collector all my life, there is nothing I will not use to gain access to my inner knowing so I feel perfectly qualified to say there is nothing like The Genius Symbols, anywhere. If you think you've seen it all before, you are wrong. Trust me on that!

This is a true paradigm shift in the field of realizing human potential.

And I am also relieved to say that The Genius Symbols elegantly, and finally, dispenses with the unhelpful notion many people still have that you have to be able to visualize clearly in order to have visions and use your imagination. You do not and this completely groundbreaking concept created by Dr Hartmann will show you the way.

Highly recommended!!!


Nicola Quinn
Author & Journalist
http://nicolaquinn.com
WHAT are The Genius Symbols?
A set of 23 Symbols that create a meta alphabet to communicate directly with the energy mind.
HOW are The Genius Symbols so different and unique?
The 23 Genius Symbols are instantly accessible to BOTH the energy mind AND the conscious mind because they were created through the CO-OPERATION and AGREEMENT between both minds.
****** Here are 6 of the 23 symbols. See if you can guess what these symbols stand for, without EVER having read or heard the first explanation:

The Genius Symbols are NATURAL symbols - they are easy to understand, easy to remember, and you can start using the Genius Symbols RIGHT AWAY.
Even a child or a person from a stone age culture past or present would understand these symbols - they are meaningful and ACCESSIBLE to HUMANS in general.

And even more importantly - YOUR ENERGY MIND understands them too!
HOW are The Genius Symbols used to create insights and innovations?
The book will show you how to make simple, logical patterns from these symbols which "tell a story" - or in other words, give you the vision you specifically asked for.
The book explains MANY WAYS in which to use the Genius Symbols to get your own personal breakthrough insights, "Eureka!" moments which we call Threshold Shifts - including the possibility to tell your energy mind a story that you want it to know about by placing the symbols consciously. This is completely unprecedented in the history of oracles, divination and visioning and it allows the energy mind to come forward and give you new insights, resolutions and new ideas for very real situations, memories and concerns.
WHAT is the greatest benefit of using The Genius Symbols overall?
To have an easy, powerful, profound and yet also often playful and light hearted way of communicating SUCCESSFULLY with our energy minds, without fear, without feeling out of our depth, without having to be nervous or scared, an easy and natural process that is completely enjoyable and astonishing, a highly personal and immensely uplifting and enlightening experience in every sense of the word.

Don't try and be clever - be a genius.
To be a visionary thinker, a visionary leader, a visionary artist,
or a true visionary genius, you need ...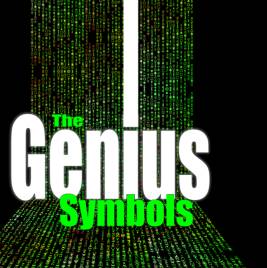 The 23 Unique Project Sanctuary derived Genius Symbols will give you custom made visions of pure and outstanding quality,

reliably and under your control, for you to use in ...

Creativity, Invention & Innovation
Problem Solving & Trouble Shooting
Clairvoyance, Clairaudience, ESP
Personal Development & Evolution
Magic, Reality Creation, Goal Setting
Divination, Religion & Spirituality
Healing, Health, Fitness & Sexuality
Therapy, Counselling, Self Help
Art, Music, Writing, Sculpture
Games, Adventures & Explorations
Design, Business & Commerce
Intelligence, Logic & Strategy


... and for excellence in every day life.

Created by Dr Silvia Hartmann For 3rd Millennium Human Beings.

Simple. Elegant. Powerful. Pure Genius.

Don't Delay: