Adventures In EFT is not just an easy-to-use self help manual that teaches Classic EFT soundly and quickly.
Adventures In EFT is also a perfect introduction to using Gary Craig's Emotional Freedom Techniques with clients in a professional practice as an additional service for healers, hypnotherapists, counsellors, coaches, psychotherapists and other caring professionals.
Classic EFT is also extremely helpful as an additional modality and true healing tool for nurses, homeopaths, nutritionists, massage therapists and kinesiologists, to mention but a few.
If you are a healer, add Gary Craig's Emotional Freedom Techniques to YOUR toolbox of techniques - your clients will be more than grateful!
From Gary Craig, Originator of EFT:
You and I should send Silvia Hartmann a basket filled with gratitude for bringing EFT to life on these pages. Using her engaging writing style, she describes this remarkable healing technique in compelling terms for both everyday citizens and those in the healing professions. She blends her extensive knowledge of other fields with EFT to bring you a book that is information packed, entertaining and practical.
We are on the ground floor of a Healing High-Rise and EFT is lighting the way. It represents a paradigm shift in the healing field which requires fresh thinking if we are to use it to its fullest extent.
Silvia's masterful work is your opportunity to learn about it.
Gary Craig
Originator, Emotional Freedom Techniques TM
http://emofree.com
---
From Patricia Carrington PhD

Dear Silvia,
I have not only finished reading your fine book, but am telling every therapist even remotely interested in energy therapy that they MUST order it because it is clearly the best book written on EFT.
I am in fact using many of the innovative suggestions in the book as discussion topics for our EFT discussion group which is composed of some dedicated psychotherapists who regularly use EFT in their practice.
Again, thanks for this lovely contribution.
Patricia Carrington, Ph.D.
Clinical Professor of Psychiatry, UMDNJ-Robert Wood Johnson Medical School; Chair, Association for Comprehensive Energy Psychology, Research Committee

---
Adventures Sets The Standard
Adventures In EFT is a must for those who are interested in this amazing method of personal transformation. Whether you are a practitioner or using EFT for self-help Silvia's book is to be ranked as one of the standards by which any other future books on this subject will be measured by.
Kerin Webb MAMT, MAPC, MBHA, MCPS, MFPH, MGNLP, MHS, MNHR

Founder: The Associated Professional Counsellors
The UK Federation of Professional Hypnotherapists
Member of: Mensa
The Association of Meridian Therapies
The British Hypnotherapy Association
The Hypnotherapy Society
The UK Guild of NLP
The Counselling & Psychotherapy Society


---
From Chrissie Hardisty

This is the definitive book ever written about EFT. Silvia's style of writing appeals to both therapist and lay person alike.
I wholeheartedly recommend it to anyone who knows nothing about EFT and to everyone who does!
Chrissie Hardisty CHAMT, MACH, MBHA, MNCH,
Director and Trainer - The Association for Meridian Therapies
http://TheAMT.com
---
From Joseph Bennette:

Silvia,
I loved your book. It inspired me to go back and re-take Gary's course. I have thoroughly enjoyed your posts to several egroups and agree strongly with your world view. After reading Adventures and putting the skills to use, I have greatly improved my own practice.
So, here are my thoughts on "Adventures":
In December 1999, I heard about Silvia Hartman and her work with Emotional Freedom Techniques (EFT). I purchased her book, Adventures in EFT. Right away I was stirred by her delivery and writing style. I enjoyed the way she put EFT into a simple, easy to follow process that makes it incredibly easy to duplicate, even for a novice. She also included many case stories and suggestions for use that assisted me greatly in incorporating the EFT protocols into my work with clients reporting a variety of issues ranging from depression to phobias to chronic pain and general stress. I found her book, Adventures in EFT, a delight to read, simple and easy to follow, and logically presented.
I recommend her book to all my associates and peers. The processes she illustrates in her book are powerful, yet easy to master. She even offers help in integrating the EFT protocols into other therapies and situations.
Seasoned professional therapists will find Silvia's work helpful, inspiring and refreshing.
Non-professionals and novices to the healing field will find her work useful and powerful for self-healing. It is definitely a win-win for anyone interested in healing and health. I applaud her effort and highly recommend her work. Perhaps it is now time to usher in a new era of healing based on a new paradigm so eloquently and delightfully presented in this marvelous book.
In Gratitude,
Joseph Bennette, MRET, DCH, PhD
Clinical Hypnotherapist Salem, Oregon, USA
http://www.jbennette.com On the other side of fear is freedom.
---
I'm not a therapist but I love Adventures In EFT and it has taught me how I can personally use EFT for many problems. The main one being Insomnia. I hadn't had a decent nights sleep for some 20 years. After learning this method, I was literally falling into bed, before midnight, and sleeping. Now i find that I can make myself sleep when I want or even if I am flagging a little during the day,
I can use EFT to revive me, so to speak. It helped me control the pain in my arm when I had an operation. I have used it on my father who had gout. He was abroad. He had been in bed for some 2 weeks off and on, when I heard I decided to try EFT. The next day my mother informed me that he was up and about and it was as if nothing had ever been wrong. I have used it on animals, which has confounded vets and owners alike. I have shown this technique to a friend, who uses it regularly with great success on herself and her friends. We are all just normal people,
It is a wonderful and simple technique. Whenever I feel the need to use it, it can be done quietly and discreetly, and I have no doubts at all that EFT does genuinely work. Adventures if EFT makes it easy for anyone to learn not just the technique but how you do it properly and everyone should read it.

Samantha Roberts, UK
---
Inspiring, concise, workable and working!
A quick note to you on Adventures: Thank you.
I am on my on my second reading. This is an outstanding book, so easy to read and so full of invaluable information.
I have already cured myself of a bad headache and a fear to phone my sister (which has stopped me from talking to her for the last 12 years).
EFT is brilliant and your book is inspiring, concise, workable and working.

Sincerely, Mary Anders
---
From Sharon Demarte
I recently bought a copy of this book. I give EFT workshops and would like to be including a book, so have been looking at a few book possibilities. I like this one the best. Please tell me about possible distribution arrangements.
Sharon Sharpe-Demarte, M.A.
One of a Kind Coaching & Counseling "Helping you bring your gifts into the world."
Redondo, WA 98054-0053 Phone: 253-943-1494

---

It's Wonderful - I Feel Inspired

It's now 3:45 AM and I have read Adventures in EFT at one go.
It's wonderful!
Thanks you so much - I feel inspired and freed to use EFT in so many ways I had not thought of, with myself and with my clients.
A wonderful book!

Thanks again, Noelle Miller


---
Strongly Advising My Clients To Buy A Copy
I am enjoying the adventure of reading your latest version of 'Adventures in EFT'- it really is very comprehensive and superbly written.
I have placed a copy in my therapy room and am strongly advising my clients to buy a copy.
Best book on EFT there is, by miles and miles.
love and good wishes to all you do, blessings for all you have done

Martin Evans, CH T


---
Clients & Course Delegates Love This Book
Adventures in EFT is simply the best book written in the emerging field of "energy psychology." These techniques can be learnt easily and they work! Silvia has an engaging style of writing which both informs and inspires.
My clients and course delegates love this book and apply the techniques with great success. I now incorporate EFT into stress management training for major UK organisations, and use "Adventures" as a valuable resource.

Peter Delves MIPD C.Hyp. MAMT
Independent Psychotherapist & Trainer
Peter Delves Associates
http://www.delves.co.uk


---
Invaluable Insights Bring The Magic Of EFT To Life

'Adventures in EFT' is a beautiful little book' which in simple compassionate yet humerous language guides the reader on a journey of discovery; SELF DISCOVERY.
Silvia uses every word and sentence in this book to teach, describe and give examples of how to use this 'Gary Craig's' magnificent 'Emotional Freedom Technique', to remove all kinds of emotional problems and discomforts from your life.. In addition the Author gives us the benefit of her own experiences, skills and observations as a recipient, therapist, mother and human being.
These invaluable insights really bring EFT and its magic to life.
EFT is probably one of the simplest yet most profound self development tools around today and 'Adventures in EFT' gives you the reader the necessary insight and advice to use it to improve the quality of your life and to keep the changes.

Thank you Silvia.

Tom Bolton
Holistic Practitioner, Author of 'Vibrations for Health and Happiness'.
Creator, FreeWay

---
A Great Deal Of Good Info - Very Helpful

Adventures In EFT is really informative, and I'm learning quite a few new subtleties as I go. There's a great deal of good info there, which I'm sure will be very helpful to me and those I work with.
Thanks again for sending me a copy! Also learnt a lot reading your NLP/EFT booklet, fascinating! I really appreciate the effort that you've put in to spread this work.
It really is transformative & I'm really grateful to have found something so powerful which I can do for a living.

Ed Wilkinson http://www.prestigecoaching.com

---
Outstanding Results!
I am a Kinesiologist and Personal Success Coach in Sydney Australia and I am writing to tell you that the Adventures in EFT is an inspiring and life changing book.
I downloaded it a couple of days ago and already I am receiving outstanding results in my practice.

It has really "blown me away". Not only myself but my clients as well.

Thank you again.

Arthur Bablis
http://www.ack.net.au
---
You have heard
what a great technique EFT is -
now learn to use it with confidence, elegance and excellence!
*****
Superb In-Depth Training
*****
In Emotional Freedom Techniques
with Dr Silvia Hartmann's
Adventures In EFT
Start Using EFT Today to change your life!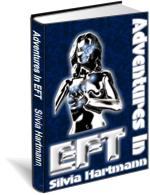 STOP PRESS - "The Best Book On EFT" just even better still!
Version 6 Is Here - The Latest Expanded Edition of
Silvia Hartmann's acclaimed, best selling book on EFT
"Adventures In EFT"
More EFT topics - More EFT chapters - More EFT content!
Adventures In EFT - 6th Edition