Have you ever wondered who you are,
why you've made the decisions you've made
and how to free yourself from events of the past?
Dr Hartmann, author of Adventures in EFT, The EmoTrance Trilogy, Project Sanctuary & The Genius Symbols has discovered through extensive research that our personality and decision making is a combination of key events in the past which shapes who we are today.
"This book stands on its own as a work to bring guidance to our evolution as human persons."
- Dr Terry Lynch, New York, USA - Full Review
Using brand new techniques and methods developed by Dr Hartmann, Events Psychology is about pin-pointing these good or bad times in our lives, small or big and some which we may have forgotten, to finally release ourselves from the past so we may create our own personal brilliant future.
"The field of psychology advances by new discoveries and new insights into how the mind works.

Dr Silvia Hartmann's Events Psychology is a quantum leap forward in the understanding of the dance of life. By using the ideas in Dr Hartmann's book I was able to come to a much deeper understanding of who I am and what I am doing. Brilliant.

Do yourself the biggest favour you can and get a copy for yourself. You won't be the same."

Steve Wornoff
"How To Understand Yourself And Other People" is a comprehensive work that will offer you the following benefits:
Who you are today
How to pinpoint key events in your life accurately, easily, without trauma and whilst avoiding creating false memories
Why you like or dislike certain types of people, foods, colours, animals, insects, plants, etc
How you make your relationships with friends, partners and lovers
Where your phobias come from, what they mean and how to get rid of them
How you can move on from mistakes of the past and how to avoid reoccurring patterns in behaviour
What we can all do to shape our own future using cutting-edge psychology principles
"How To Understand Yourself And Other People" is a must read for:
Psychologists, Therapists and Medical Doctors
Parents, Social Workers and Care Workers
Energy Psychologists, EFT Practitioners, EFT Self Helpers
Anyone looking to make a real change in themselves and the people around them.
FREE Sample Cases & EFT Document Available HERE.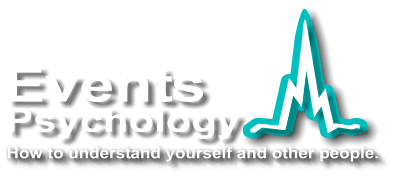 Events Psychology.
A NEW Psychology for the 21st Century.
Researched, designed & created by Dr Silvia Hartmann.
End the suffering. Plan the future. Live YOUR life.