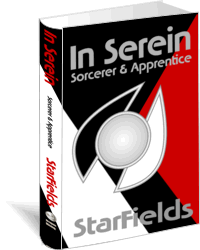 Magic. Power. Love.
In Serein
by StarFields
Book 1 - Sourcerer & Apprentice
Young commoner Isca is determined to become a Serein magician so that she may take charge of her destiny and no longer remain a victim to the circumstances of her birth and the oppressors of her world. She is apprenticed to the only master strong enough to control her, the immortal Lord Lucian Tremain, acting Lord of Darkness.

In the conjunction between Lord Lucian's ancient powers and Isca's unprecedented talents, a force is born that can take the stars from the sky - but only if they can learn to survive one another.


Hypnotic Fantasy Fiction By StarFields ...
In Serein is a hypnotic and spellbinding adult novel which takes the reader deep into the heart of power, control, magic, love and logic.
At the centre of the story lies the dark romance between a 14 year old virgin, Isca, and the ancient immortal Lord of Darkness, Lucian Tremain. As each begins to discover their unique weapons of powerful magic which arises not from the use of artefacts, but from within the wellsprings of their own beings, their actions threaten the dominion of the ruling secret order of priest-magicians who set out to destroy them both.

Merged against their will to a single timeless fate, Isca and Lord Lucian have to fight the Serein, the demons of their own past and of each others for their lives, for their sanity, their soul and their redemption.

Victim and torturer, master and slave, saviour and destroyer, sourcerer and apprentice - each must become all or far more than just their own lives will be lost forever.



Reader's Comments:
This story that had me totally engrossed and on the edge of my seat.....!
I am becoming more & more interested in the energies of things, our bodies, our etheric bodies, and so much more. I found this novel very inspiring for me to go explore more (inside & out.)
After living in the story's alternate reality for several days, this one looks different than it did before. Cool.
This isn't a book, its an alternative reality. I lived there. I LIVE there!
Mesmerizing words flow artistically, drawing pellucid scenes, evoking empathy and hope for the protagonist and compelling the reader to continue...
I think this is the most beautiful and interesting novel I've ever read!
This is without a doubt one of the best books I've read. It really draws you in.
The story moves on and you can't put it down. Sat up all night at one point.
A very fascinating tale that had me enthralled from the start to the finish.
I found In Serein very fascinating and hypnotic. It is very well written and all that I can say about it is WOW!!!
I haven't been able to put it down. Your wonderful story has reminded me of the power and magic in me that seems so obtainable.
My dreams have broadened and are starting to reveal to me the higher knowledge that I have always known to be there.
Warrior drops to one knee, spreads arms, and bows head - Stands and turns and walks into the realm of all possibilities ...
My mind raced as I read the book - I was enjoying the story on a literary level, but also constantly wondering what I could accomplish if I really tried - learning from the characters from their failures and thrilling at the thought that their victories could be mine.
A literary jewel - and life changing!
I loved this book! Thank you for an imaginative story and characters... I felt for each one.
GREAT STORY. There is so much going on within myself, reading this, which for me constitutes a good story. I get to put myself into each and every character.
What an extraordinary story! I'm just blown away.
A stunning work.
This is one of those books that will stay with me forever, if I want it or not. Isca and Lord Lucian are so real to me, they are just REAL.
A wonderful experience, far beyond just a read.
In Serein is wonderful, a whole new world that feels so right. I love the patterning for healing. I can't wait for the next instalments!
I couldn't put it down - In Serein is not just a book, it's a reality.
In Serein has opened my eyes to a whole new way of looking at the world. My life will never be the same again. Thank God!
"This book will appeal to those who are interested in the mysteries of the human mind, fascinated by magic, myth and metaphor and have a desire to expand their horizons."
In Serein
Book 1 - Sourcerer & Apprentice by StarFields
First Edition, United Kingdom.