NEW: Introducing A Revolution In Wealth Creation:
The StarFields Network is proud to present
Silvia Hartmann's Unique & Best Selling:
Hypnotic Words, Energy Magic, Inspiration Power - All Aligned FOR YOUR SUCCESS.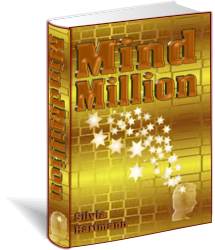 Are you tired of struggling along all by yourself, day in, day out?

Are you seriously wondering if you ever going to find the ONE BOOK that will be the KEY to YOUR SUCCESS?

Do you STILL have that flame inside you that tells you you are more, can DO more, can HAVE more -

That you can BE MORE?

If the answer is "YES!" then be WELCOME - and read on ...
Let Me Help You Change Your Stars!
From the Author, Silvia Hartmann: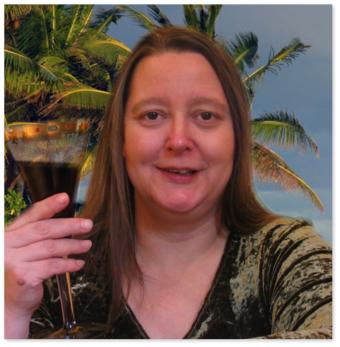 Dear Friend,

I've struggled for my whole life (well, up until a couple of years ago!) against my own self created poverty. Against not ever having enough money and constantly worrying about this, and against the feelings of powerlessness and helplessness that brings in its wake.

So the question as to how to earn money, lots of money, and really be rich AND FREE from financial constrictions has always been one of my top priority research projects, all along.

I don't WANT to sit in a bed sheet on a mountain top and be holy and poor!

I don't WANT to wander the Earth and beg for bowls of rice!!

I don't WANT to constantly look over my shoulder rather than to have the tools and resources I need to unfold my own incarnation!!!
I've come from generations of good, decent, intelligent people who worked their guts out all their life, and never stopped, and never got any rewards at all.
Further, of course I'm a woman and you know how rare it is for one of those to succeed in any kind of business ... without a sugar daddy and all of that ...
But I always, always KNEW it could be done and I wanted to change my stars.
I have studied the field of "prosperity and abundance creation", reality creation you can call it, my entire life.
I have studied, I have listened, and learned.
And what I have learned is that you do not change your stars by:
X Trying to copy things that other people who aren't you SAY THEY DID to get rich;
X Endlessly studying the dusty archives of humanity;
X Obsessing day and night to somehow "acquire the 7 habits of the filthy rich";
X Entering psychotherapy because there's something wrong with you!
I believe, and I believe this with all my heart, or I'll go further still and say that I KNOW THAT THIS IS TRUE, that people are ready and waiting to exceed themselves, SURPRISE THEMSELVES, get going right away and make their own lives work, and that all it needs to CATALYSE ALL THEY ALREADY ARE INTO ACTION is your own ...
True Spark of Inspiration.
And that's - yes, you've guessed it! - PURE ENERGY.
All things are energy in essence.
No rock moves until a person has a spark of inspiration and starts to try and figure out how to move that rock; not a thing in all the heavens and earth ever moves at all without that spark of energy to light up the night, bring new ideas, bring new possibilities and pathways that simply weren't there before.
I have met thousands upon thousands of people in my life and in my work.
None of them really needed to learn anything else new to get started and make a HUGE difference to themselves and the world around them.
But what they truly needed was:
| | |
| --- | --- |
| | The INSPIRATION to wake them up, to light up their circuitry, to light up their lives for real; |
| | The PERMISSION to succeed beyond their own wildest dreams and to REALLY GO FOR IT; |
| | ... and finally, A TRUE CHAMPION who believes in them absolutely - even if that is only for A SINGLE SECOND in an entire lifetime. |
Prosperity, Abundance and REAL DOMINION over your own life cannot be taught.
It can only be experienced and LIVED - by you.
I want to help you.
Let me help YOU change YOUR STARS.
I have found out why people miss out on success and the true FREEDOM of being in charge of your own destiny - from the bank account up.
I spent years developing the ANTIDOTES TO FAILURE so that we can stop with all of that, and instead, go forward IMMEDIATELY into a bright and better future, and there are right here, in this very special book.
I have done the very best I can to be the champion you've never had, to be honest and truthful about the REAL principles of prosperity, and to give you the tools you need EVERY SINGLE DAY to keep on track and never give up.
It is completely possible and completely achievable for YOU to get what you want and this book will help you on your way.
Now, it's over to you.
YOU can change your stars.
***I absolutely*** know you can.
WE ALL WANT YOU TO.
WE NEED MORE CHAMPIONS, so badly, so desperately - WE ALL NEED YOU TO SUCCEED.
And we are waiting.
I am waiting - for YOUR SUCCESS.
With all my love,

December 26th, 2004
MindMillion is a SUPERBLY UPLIFTING HYPNOTIC EXPERIENCE through and through.
Silvia Hartmann is a past master of motivation, hypnotic guidance and energy movements, and in this book she uses her experience and expertise to help the reader rise above their own limitations with elegance and ease.
This totally unique book functions not only as an information transmission device,
but also as an ongoing reference manual;
AND as a tremendously motivational and inspirational EXPERIENCE.

MindMillion is INTERACTIVE - this extraordinary book contains the correct sequences of key transformational power exercises in energy magic for wealth, abundance and true, real prosperity.
These unique exercises are easy, natural and DESIRABLE.
Readers will find that they can understand the reasons for these exercises immediately,
FEEL the benefits of these exercises immediately and without delay;
Readers will find that they WANT TO DO these special exercises; and
These exercises are powerful, multi-level and profoundly LASTING in their effects.

MindMillion is REALITY ALIGNED. The pre-suppositions upon which this book rests are found in the highest spiritual principles of all the major World religions.
MindMillion is therefore compatible with all major faiths,
and all personal faiths that celebrate the Creative Power of the Universe as the highest of all.

MindMillion is REAL WORLD EFFECTIVE - and immediately and noticeably so.
All the exercises, principles and practical strategies discussed are TRIED AND TESTED,
have been researched and put into REAL LIFE PRACTICE by REAL people -
HUMAN BEINGS from all walks of life, men AND women, old AND young alike.

MindMillion is for COMPLETE AND POWERFUL HUMAN BEINGS.
This is not just about being rich in monetary terms, but
rich in EXPERIENCE OF LOVE, joy, health, wealth, TRUE POWER;
to experience the delight of being in a position to make your LASTING CONTRIBUTION;
and all those things which make a life truly worthwhile in every way.

MindMillion is designed from the ground up TO INSPIRE YOU! The purpose of the book is to transmit THE ENERGY OF ABUNDANCE pure and simple.
This is the exact energy people need to
shake themselves free of procrastination,
to brighten them, excite them, sparkle them from the inside out;
to give them that energy boost to RISE ABOVE their own perceived limitations
and to create achievements that surprise themselves.

MindMillion is DESIGNED TO GROW WITH YOU and to be there for you, to turn to, again and again.
As more of the effects become revealed, and the reader experiences the changes, reading it afresh becomes a NEW EXPERIENCE each time -
Designed to lift the reader from one threshold to the next, up and up.
It is recommended to keep the ebook on the desktop as an icon to refer to before making major business decisions, writing advertisements and making goals and plans,
to be able to ENTER THE CORRECT STATE for focussed, congruent and unstoppable success.

MindMillion is the CATALYST for all you have already learned. This fantastic book does not replace "technical" instruction manuals and courses on marketing or running a business.
Rather, it is the CATALYST which is needed
to allow the reader to FINALLY MAKE USE OF ALL THEY HAVE LEARNED so far,
to DO what needs to be done to REALLY succeed - at last!
to really be able to use what they will still learn in the future and
to bring information and EXPERIENCE together into wisdom, exactly how it was always supposed to be.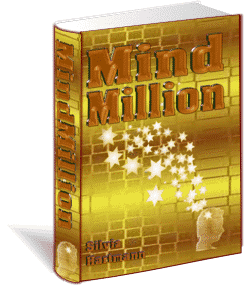 Change YOUR Stars.
Start Today. Don't Delay.
Time isn't money, time is TIME.
Time is IRREPLACEABLE.
It is the most PRECIOUS GIFT we have.
(There's NO "Time Lottery" you can hope to win, right?)
MindMillion by Silvia Hartmann
"Let me help YOU change YOUR stars!"
And the cost?
Silvia has asked that this book be sold for the standard price of $24.95
She wants it to be affordable to all who really want it, but knows it cannot be for free.
In a proper magical exchange transaction where all is as it should be, both parties have to make a commitment.
When you buy this book, YOU have made the commitment that you are willing to rise above yourself, that you are willing to let yourself be surprised with just what YOU can do, and that you really want to "change your stars".

This information is priceless.
The energy is priceless, and the practical value of this book cannot be calculated.
It might be any price at all, and so this is the price it is.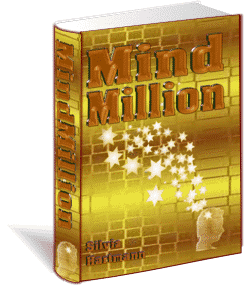 Take this opportunity.
Buy this book. Make your commitment.
Read it.
USE it.
And MindMillion WILL Help YOU
Change YOUR stars.
Here's what some REAL PEOPLE had to say about MindMillion:
Ananga Sivyer,

An utterly brilliant step-by-step compelling journey - blending inspiration and practical tools that draw you through the phases of the Mind Million process with elegance, ease and full support.

Mind Million is the best personal development book I have ever read.

Read it, do it and live it!

This is your chance to be your own champion and I advise you to grab it with both hands.

Dr Mark Atkinson,

Holistic Medical Physician

Within one hour of finishing the book, I had released many of my self-made and adopted barriers to financial success.

From that emerged a real knowingness and clarity of how to unfold my vision and goals, the likes of which I have not experienced before - despite spending a lot of money on self-help books and programmes!

I encourage anyone who wants to grow rich from within to read MindMillion.

Bob Collier, Publisher -

Achievements far beyond the healthy acquisition of money.

I love this book and I'm so glad I found it.

And it's as simple as that! Six phases explained with crystal clarity, so that the ideas 'sink in' very quickly - a rare experience, for me at least, with self-help and personal development literature. And each phase with a practical exercise to cement its ideas into place.

I'm a BIG fan of Dr. Hartmann's work and I think she's a genius!

Got $24.95? Spend it on this.

Sandra Hillawi

Managing Director Passion for Health Limited

Those with dreams and visions of making a big difference in this world, touching the lives of thousands, millions eventually, like myself, will recognise that this book is written just for them!

It holds the keys, and the concepts in the simplest accessible straight talking format to inspire us to grow into the extraordinary, to greatness in our actions and greatness in our selves and to help us to show the way for others.

Thank you Silvia, for this wonderful book and for being such a great inspiration in my life.

Simon Mitchell, Author,

Just about here the magic really starts to get a grip.

For anyone who really wants to self-generate their life, Silvia provides a whole host of tools and concepts ' for 'growth into riches' I have never seen elsewhere.

If there was such a thing as a 'school for success' MindMillion provides it, with a host of relevant examples, tools and techniques.

Nicola Quinn,

Trainer & Author,

This is not a business 'How To' book or marketing plan, it is way, way beyond that and far more valuable as it transmits the essence of what it is to be rich, stripping away the doubts, fears and worries of what that would mean to you, then opening up a whole new reality of freedom and splendour and making a huge space for your own ideas and talents to flood in and create the reality you have always wanted.

This book is a powerhouse of information and inspiration that cannot fail to make a difference to you and your world.

*****Highly recommended.

Joseph Bennette, Life Coach & Hypnotherapist, www.jbennette.com

This has got to be the BEST BOOK I HAVE EVER READ about making life vibrant and alive. I am EXCITED about this book! I'm excited because I feel HOPE – real faith in myself that I CAN ACHIEVE – without having to buy somebody's program or products to make it happen.

I cannot recommend this book highly enough. I don't care who you are, you MUST read this book. Not just that you owe it to yourself – you owe it to everyone you know or will ever know.

"Everybody loves a winner!"

Steve Collins, Composer

United Kingdom

If you really want true wealth, real power and your very own empire, then reading 'Mind Million' is the first step you need to take!

As well as being a brilliant personal development tool, Mind Million is essentially a how-to, a manual and a guide - probably the only one you will ever need to lay the foundations for building your very own kingdom.

Its mind blowing just how much ground is covered and how many different issues are tackled here - all most deliciously!

Martha Mayo

When I found MindMillion, I thought, "Well, here's another book to tell me "how to" get to be a millionaire. What, the heck, I'll buy it ..."

Was I ever in for a surprise! Silvia has a way of turning common, everyday thinking upside down and creating a whole new way of being, seeing and doing.

Have I made a million dollars yet? No - and I'm on my way!

Has my attitude and mindset toward creating wealth changed? You bet!

Am I on my way to being an empire builder? Absolutely!

MindMillion is NOT just another "how-to" book on creating wealth. It does do that and much, much more.

Prepare to be surprised!

*Please Note: MindMillion is available BOTH as Adobe PDF ebook AS WELL AS hardcopy from DragonRising Publishing. The Energy Activator track comes in MP3 for the ebook, and on Audio CD for the hardcopy/paperback.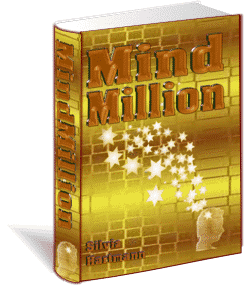 Take this opportunity.
Buy this book. Make your commitment.
Read it.
USE it.
And MindMillion WILL Help YOU
Change YOUR stars.
Paperback Plus CD - Or Ebook Plus MP3
STOP PRESS: Silvia Hartmann has generously added another AMAZING and priceless benefit for MindMillion Wealth Creators!

Once you own the book or ebook, you are invited to join the NEW MindMillion group for networking, ongoing motivation and support - absolutely FREE of charge!
That's a HUGE bonus, and ONLY AVAILABLE with MINDMILLION!
STOP PRESS 2: You're not going to believe this but we've got another bonus for you!

Just released and ENTIRELY FREE for MindMillion Owners - Our special Energy Hypnosis Subliminal MINDMILLION SUCCESS ACTIVATOR Track!
15 Minutes of PURE ENERGY for you to download in classic mp3 format with your MINDMILLION completely FREE - to play FIRST THING before you start work, to get you energised, recharged, lifted and rearing to go!
YOURS FREE with EVERY PURCHASE of this fabulous wealth creating product - you can download it right away if you buy the electronic package!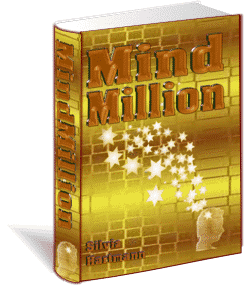 Take this opportunity.
Buy this book. Make your commitment.
Read it.
USE it.
And MindMillion WILL Help YOU
Change YOUR stars.
Paperback Plus CD - Or Ebook Plus MP3